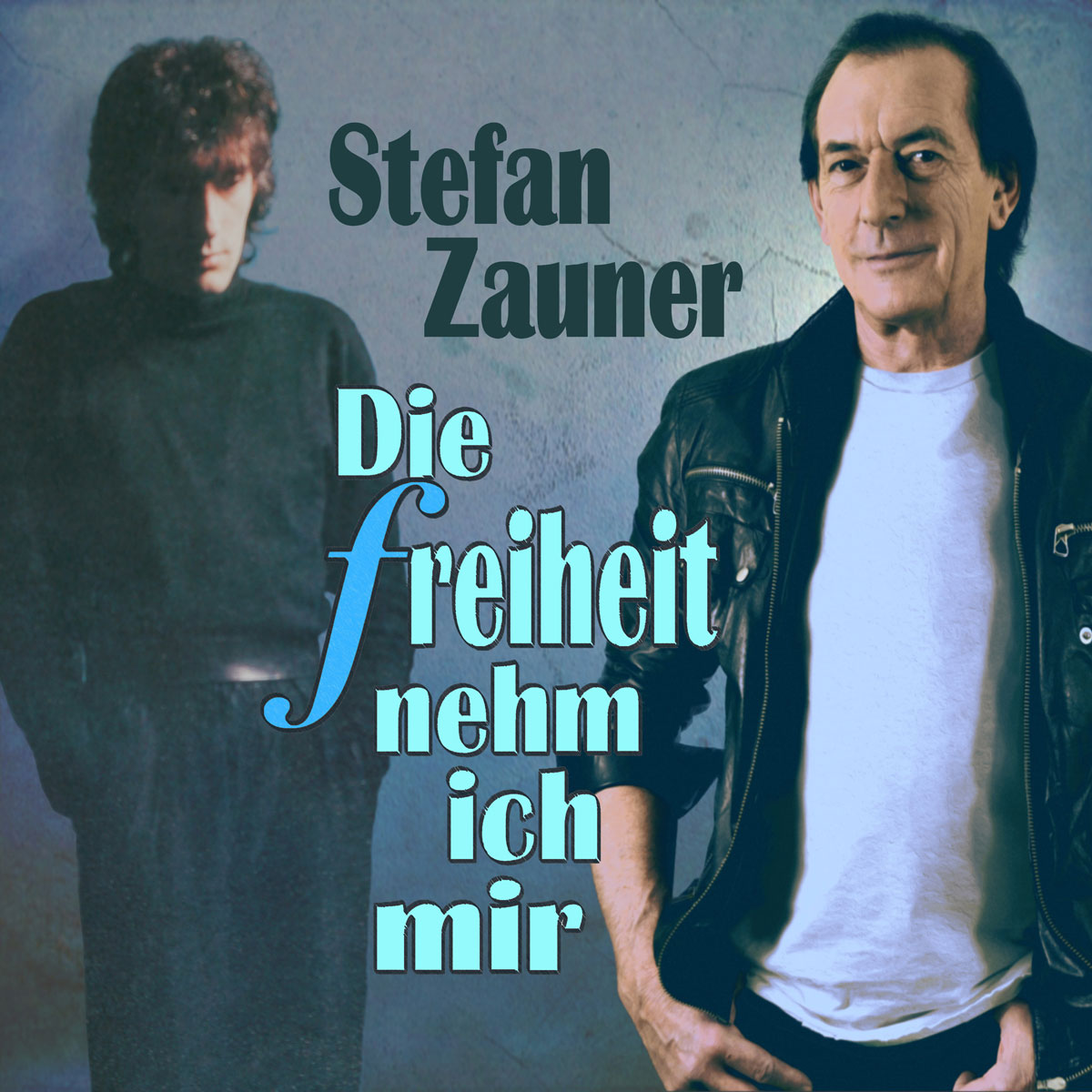 DIE FREIHEIT NEHM ICH MIR
STEFAN ZAUNER – DIE FREIHEIT NEHM ICH MIR
Back To The Roots… geht eine der wohl bekanntesten Stimmen Deutschlands! Zum 40jährigen Bestehen der Münchener Freiheit, die im Oktober 1980 gegründet wurde, überrascht uns Ex-Sänger Stefan Zauner mit einer ganz besonderen Veröffentlichung: DIE FREIHEIT NEHM ICH MIR! Die letzten 10 Jahre ist der kreative Songschreiber zusammen mit der Sängerin Petra Manuela eigene musikalische Wege gegangen. Alben wie "Zeitgefühl", "Fabelhaft", "Mensch ärgere dich nicht", "So weit, so gut" oder zuletzt "Persönlich" folgten seinem neuen musikalischen Konzept.
Jetzt, fast 10 Jahre nach seiner Zeit mit der Münchener Freiheit, wagt er einen Rückblick auf diese unvergessene Ära, hat sich, unabhängig von geschichtsträchtigen Hits, die Freiheit genommen, seine ganz persönlichen Lieblingslieder aus drei Jahrzehnten Erfolgsgeschichte noch einmal neu einzusingen und zu produzieren. "Vielleicht ist erst jetzt der Abstand zu der unglaublich erfolgreichen und rastlosen Zeit mit der Münchener Freiheit groß genug, um mich damit musikalisch noch einmal auseinanderzusetzen", reflektiert der Sänger. 
Rückblick auf 40 Jahre Münchener Freiheit
Natürlich haben wir alle noch die großen Münchener Freiheit Hits "Ohne dich (schlaf ich heut Nacht nicht ein)", "Tausendmal Du", "Solang man Träume noch leben kann" und viele weitere, im Ohr. Sie alle haben die Zeit bis heute überdauert, stehen ganz oben in der ewigen Hitliste. Einige von ihnen nehmen auch Plätze in seiner persönlichen Hit-Liste ein. Aber es gibt eben auch eine Vielzahl von Titeln, die nicht als Singles ausgekoppelt wurden. Die, die eher leisere, nachdenklichere Töne anschlugen oder die, die ihrer Zeit vielleicht schon voraus waren. Da er zahlreiche dieser Hits mitgeschrieben und produziert hat, gibt es natürlich emotionale Verknüpfungen mit Geschehnissen in dieser Zeit und persönliche Erinnerungen an die Entstehungs-Geschichte jedes einzelnen Songs. Das hat die Auswahl leichter, aber das Re-Recording der Titel nicht einfacher gemacht.
Entscheidend für den neuen kreativen Prozess dieses "Lieblingslieder"-Albums war, das Stefan nicht alle Songs nach einem stringenten Soundmuster neu aufgenommen, sondern, ohne jegliche kommerzielle Ausrichtung für jedes seiner ausgewählten Werke eine individuelle Version (einige auch mit der gesanglichen Nuance: Stefan Zauner featuring Petra Manuela) geschaffen hat. So wurde z. B. aus dem ursprünglich eher ruhigen Titel "Lass mich nie mehr los" eine moderne Up Tempo-Nummer, die zudem als erste Single das neue Album anteasern wird. Aus dem einst sehr dynamischen Werk "Wenn das so einfach ist…" (aus der 1986er Zusammenstellung "Von Anfang an"), das im Übrigen seit Jahrzehnten ein Geheim-Favorit der Münchener Freiheit-Fans war, hat Zauner heute ein hochemotionales Singer/Songwriter-Hörerlebnis geformt. Überhaupt wirken alle Lieder intimer, reifer und unaufgeregter, was natürlich der Tatsache geschuldet ist, dass hier mit sehr viel weniger technischem Aufwand als damals gearbeitet wurde.
Keeping The Dream Alive
Überraschend auch, dass "Solang man Träume noch leben kann" hier in einer englischsprachigen Fassung ("Keeping The Dream Alive") so überzeugt, als wäre sie 1988 als ein erfolgreicher englischer Hit-Import zu uns herübergeschwappt. Auch für "Ohne dich", "1000 Mal Du" (man beachte die neue Schreibweise) oder "Liebe auf den ersten Blick" und alle anderen Lieder des neuen Albums galt: Alles darf, nichts muss! Der künstlerischen Freiheit wurden keine Grenzen gesetzt. Gerade deshalb ist "Die Freiheit nehm´ ich mir" eine ganz persönliche musikalische Begegnung mit einem Sänger, der trotz einer unglaublich erfolgreichen Karriere durch seine unprätentiöse Zurückhaltung beeindruckt. Wie schön, dass sich dieser Ausnahme-Künstler die Zeit und die Freiheit genommen hat, uns neu zu beeindrucken.
---
Titel: DIE FREIHEIT NEHM ICH MIR
Interpret: STEFAN ZAUNER
Label: DA RECORDS
VÖ-Datum: 11.09.2020
Artikelnummer: 877841-2
EAN: 4002587784126
ALBUM VORBESTELLEN
---
► Amazon: https://amzn.to/33xAHxx
► JPC: https://bit.ly/2DxjQQu
► WOM: https://bit.ly/39QZcXO
---
Tracklisting
---
01. ZEIG MIR DIE NACHT MARIE 3.59
02. HALB GEWONNEN 3.24
03. ERINNERUNG 4.05
04. ALTE LIEBE 4.21
05. TUT SO GUT (FEAT.PETRA MANUELA) 4.04
06. EINFACH FLIEGEN 3.58
07. KEINER HAT MICH GEWARNT 3.15
08. OHNE DICH (FEAT.PETRA MANUELA) 3.27
09. 1000 MAL DU 3.59
10. WENN DAS SO EINFACH IST (FEAT.PETRA MANUELA) 3.49
11. LASS MICH NIE MEHR LOS (FEAT.PETRA MANUELA) 3.43
12. KEEPING THE DREAM ALIVE 4.00
13. LIEBE AUF DEN ERSTEN BLICK (FEAT.PETRA MANUELA) 4.17
14. IN SCHWEIGEN VERSUNKEN (FEAT.PETRA MANUELA) 3.59
15. ES IST IN DIR (OHNE WORTE) 3.12
16. WAS SOLL ICH TUN (FEAT.PETRA MANUELA) 3.12
17. ICH KOMM NICHT VON DIR LOS (FEAT.PETRA MANUELA) 3.27
18. HELDEN (FEAT.PETRA MANUELA) 3.46
19. DASS DU NIEMALS VERGISST 3.42
20. LASS MICH NIE MEHR LOS (FEAT.PETRA MANUELA – Radio Edit)  3.41
Mehr keyboard_arrow_down
Weniger keyboard_arrow_up
---