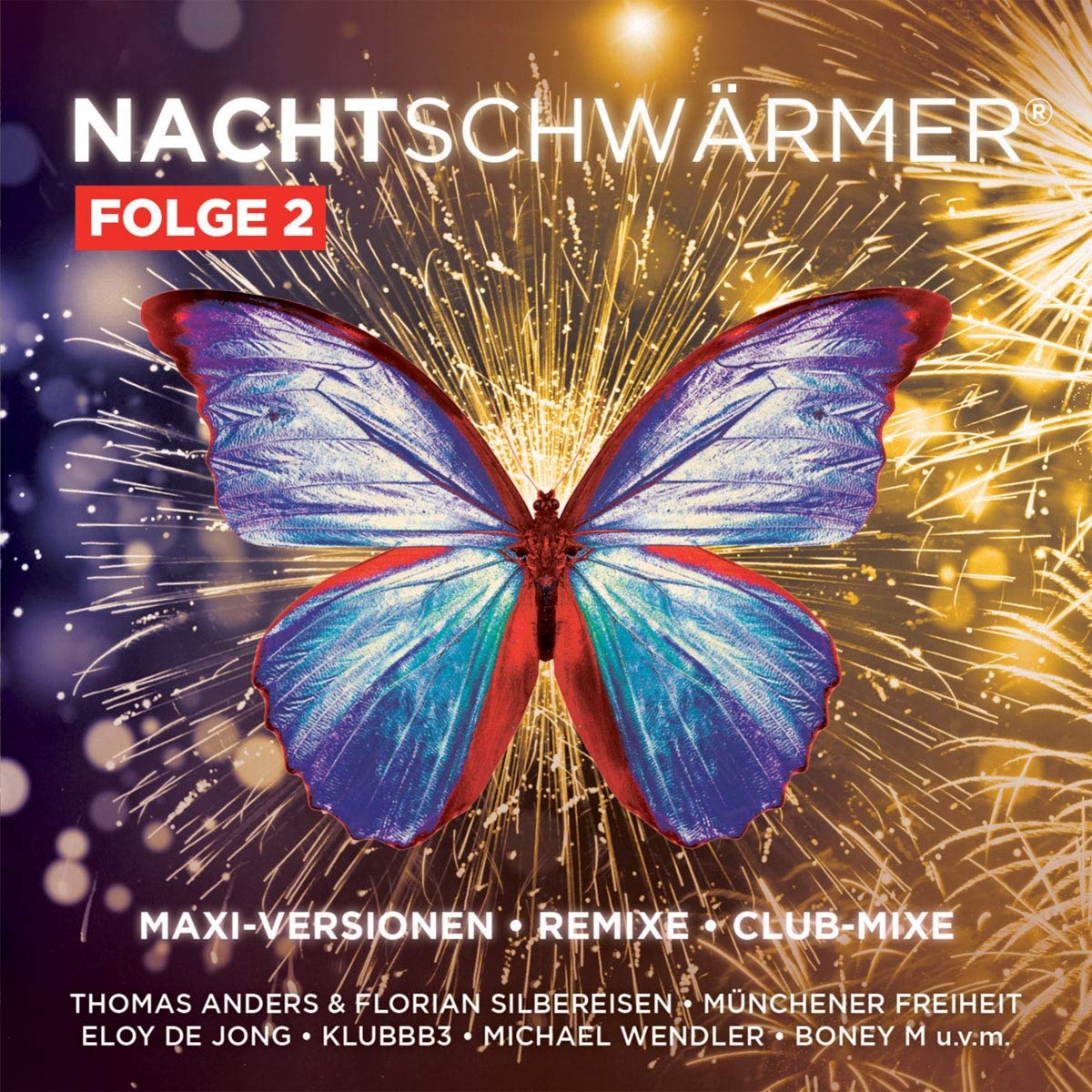 NACHTSCHWÄRMER – FOLGE 2
NACHTSCHWÄRMER – FOLGE 2
"Einmal noch" ahnte bereits der Wendler im fernen Florida und schon geht diese coole Club-Compilation in die nächste Runde. Am Start mit clubtauglichen Beats sind dieses Mal Thomas Anders feat. Florian Silbereisen mit dem De Lancaster Short Remix ihres Hits "Sie sagte doch sie liebt mich" sowie die Traumfrauen Anita & Alexandra Hofmann mit dem Basic Music DJ Mix ihres Tanzbretts "Keine Liebeslieder" aber auch der Take That Klassiker "Back for Good" in der nicht minder starken deutschen Interpretation von Schlagerstar Michael Morgan und dem ehemaligen Caugh In The Act-Mitglied Benjamin Boyce.
Ein weiteres starkes Paar auf diesem Sampler sind Olaf Berger und Antonia aus Tirol, die in einer Party-Tanz-Version gemeinsam überlegen: "Was wäre wenn wir Single wär´n?". Das wissen wir natürlich auch nicht, aber "In meinen Träumen ist die Hölle los" singen Feuerherz ganz ungeniert, aber Christin Stark sagt "Nein, nein, nein" obwohl Eloy De Jong zu Recht warnt "Liebe kann so weh tun"! Was denn nun? Diana Sorbello empfiehlt einen "Undercover Lover" im stilvollen DJ Echolot Mix, während die Zipfelbuben lieber vorschlagen "Nimm die Beine in die Hand" und Christian Lais noch "20 Jahre nach Dir" (Jeopark Remix) von der ersten großen Liebe träumt.
Aber da ist ja auch noch der "Menschliche Faktor" im Voodoo & Serano Club Mix von P.S. zu berücksichtigen, da können die Schlagerpiloten noch so oft bitten "Lass mich der Captain deines Herzens sein". Wir wissen es also auch nicht und können uns nur KLUBBB3 anschließen und feststellen "Das Leben tanzt Sirtaki" und mit dieser fetten Schlager-Dance-Compilation auch nachts. Mehr Club-Feeling auf einer CD geht nicht oder wie Olaf Henning es hier im aktuellen De Lancaster Remix-Style ausdrückt: "Besser geht´s nicht"! Genau! Also: "Nachtschwärmer – Folge 2" gleich auf die persönliche "Must Have"-Liste setzen!
Mehr keyboard_arrow_down
Weniger keyboard_arrow_up
---